A hate symbol. Why is the puzzle piece a hate symbol? I get asked this a lot. They tell me to reclaim it. As a Holocaust educator, no one tells the Jewish, travelers, LBGTQ, or any other people massacred in this horrific even in history to reclaim the swastika. I am breaking down the history and what to use instead.
The History
The puzzle piece logo was created in 1963 by Gerald Gasson, who was on the board of National Autistic Society in London.It was formally called the Society for Autistic Children. It featured a crying child in the middle of it. It symbolizes that autistic people are hard to understand.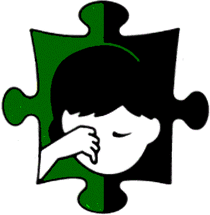 Helen Alison from the National Autistic Society explained this by saying,"The puzzle piece is so effective because it tells us something about autism: our children are handicapped by a puzzling condition; this isolates them from normal human contact and they do not 'fit in.' The suggestion of a weeping child is a reminder that autistic people do indeed suffer from their handicap."
The National Autistic Society has changed the logo and is making a conscious effort to practice inclusion and respect autistic people.
In 1999 the Autism Society in the United States created the Puzzle Piece Ribbon. The organization grants permission for other groups to use it as a sign of "global awareness."
On their website it explains, "The puzzle pattern reflects the complexity of the autism spectrum. The different colors and shapes represent the diversity of the people and families living with the condition. The brightness of the ribbon signals hope - hope that through increased awareness of autism, and through early intervention and access to appropriate services/supports, people with autism will lead full lives able to interact with the world on their own terms."
Early intervention means Applied Behavior Analysis and other harmful therapies. Judge Rotenburg Center even goes as far as electric shocks when they see a behavior they do not like. These abusive treatments lead to PTSD. PTSD can sometimes lead to suicide.
In 2005, the famous hate group Autism Speaks was founded after Bernie Marcus donated $25 million to get it started. They did make autism famous. Their main focus was to find a cure and to prevent more autistic children from being born. This is strikingly similar to the T4 project during World War II. (https://www.fierceautie.com/2019/08/autistic-history-akitoin-t4.html) It made the Nazis determine if a disabled individual was useful or "worthy of life." They often called it mercy killings.
Cure talk lead to the bleach cult that we have with generation rescue, Genesis II church and Kerri Rivera. Think about that.
In 2007 they started their famous "Light it up Blue" campaign. They chose blue because they believe that "autism effects more boys than girls." This was to raise awareness. Little did they know that their awareness campaign was killing us. The suicide rates in autistic people dramatically rose since the awareness campaign. With awareness come bullying. There was a study done in 2015 with autistic adults. Autistic people are 10 times more likely to die by suicide than those who are allistic. The signs are there but clinicians dismiss them. They say that autistic people do not have complicated emotions. When all the awareness campaigns were being carried out, the suicide rate tripled. The Autism Awareness Month campaign is well intended but it is literally killing us. It emphasizes stereotypes and prejudice. It calls for a cure. It makes us into an epidemic. Most autistics want to hide during April and do not want to come out until it is over.
We need to do better. Suicide is caused by how we are treated. The world needs to do better. Treat us with respect and do not use the puzzle piece because of all it stands for. Please do not ask us to re create the puzzle piece. You would never ask me to recreate the Swastika.
What to Use Instead
The infinity. It can be rainbow, red or gold. Anything but blue. Why the infinity? It shows what a spectrum truly is. It is not linear. It is not low or high. Its not a functioning label. Being autistic is just a different way of living and interacting with our world. It is the universal sign of acceptance.